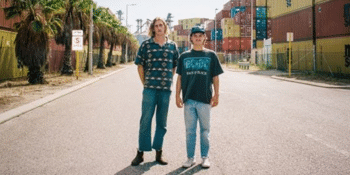 Sidequest & Select Music
Old Mervs
TBA
Vinnies Dive (Southport, QLD)
Saturday, 10 September 2022 7:30 PM
Two-piece rock outfit Old Mervs are probably the biggest act in Australia you haven't heard yet.

Riding at the peak of a surf-rock renaissance, the duo sold out a string of huge rooms throughout 2021 and 2022 and have been winning fans across the country with their no-nonsense songwriting and country-lad charm.

Best mates since the age of 5, Henry Carrington-Jones and David House grew up together on farms in Kojonup, a tiny town approximately halfway between Perth and Albany, converting an old stable into their first jam space.

Since those rough and ready early days, they've gone on to earn over 5 million streams, including a track with over 2.4 million plays ('Cellphone'); now share management with Sly Withers (including being co-managed by Sam Blitvich from Sly Withers); recently completed a national tour supporting Death By Denim; are scheduled to open for Liam Gallagher in July at HBF Stadium in Perth (after already supporting The Wombats at the same venue in June); and are pretty much guaranteed to blow up in 2022.

Following their signing to Australian indie stalwart label Dew Process and the subsequent release of their latest single 'Where I Go', the Mervs boys are primed and ready to hit the road as they undertake their first Australian headline tour this September!