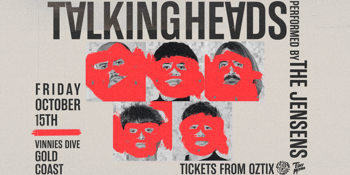 Tiny Minds Agency
Late Nights - Talking Heads (Performed by The Jensens)
TBA
Vinnies Dive (Southport, QLD)
Friday, 15 October 2021 7:00 pm
"Stop Making Sense"
This October, THE JENSENS don the big suit, performing the hits and favourites from one of the most influential bands of the 80's TALKING HEADS with 3 shows across South East QLD.
'Burning Down The House', 'Once In A Lifetime', 'Psycho Killer', 'This Must Be The Place'…. This show is gonna be something special.
Presented by Tiny Minds Agency and Late Nights*
LATE NIGHTS - TALKING HEADS (Performed by The Jensens)
FRIDAY OCTOBER 15TH
VINNIES DIVE, GC
Late Nights is a live series where local up & coming artists take on an influential artist of their choosing for a 'One Night Only' tribute show.