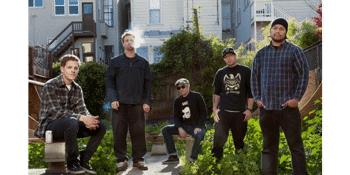 Vinnies Dive (Southport, QLD)
Saturday, 5 October 2019 5:00 PM
Get Dead are a Bay Area punk rock institution having slayed audiences all over the globe since their debut 20 years ago and now in October 2019 they are...
Finally...
Fucking...
Coming to Australia!
There aren't a lot of bands like Get Dead around these days. Instead of worrying about gimmicks and trends, this fivesome from San Francisco, California have always focused on the music and that's evident with every passion-filled note they play.

Blasting on to the US DIY punk scene the band toured relentlessly then attracted the attention of NOFX frontman Fat Mike who produced the first full-length, "Bad News", as well as the follow up, "Honesty Lives Elsewhere", and released both albums on his label Fat Wreck Chords.
Mainstays of punk rock and revered for their ferocious yet fun live shows do not miss Get Dead in Australia touring the East Coast with Melbourne shredders Wolfpack as support.