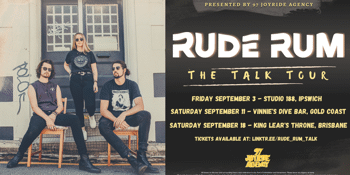 97 Joyride Agency
Rude Rum - The Talk Tour
Vinnies Dive (Southport, QLD)
Saturday, 11 September 2021 8:00 pm
Following in the sonic footsteps of KALEO's soulful resonance alongside Cage the Elephant grit and the arterial adrenaline of JET (with a drop of Wolfmother), Rude Rum have captured the hearts of fans with their refreshing persona on and off stage. Boasting significant traction on their current back catalogues of work, the feel-good groove rock addiction Rude Rum blend loveable nostalgia with an addictive zest of today's spices.
With voltaic showmanship and an addictive repertoire, the power-trio from Brisbane, Australia are a live act in all its meaning. Having already supported acts such as Brisbane supergroup Total Pace & FANGZ, Rude Rum have been rapidly establishing a fan base with a multitude of home grown shows; alongside an independent tour of the Aussie coastline from Brisbane to Melbourne in 2019.
Formed by front-man
Jaeden Ogston
(guitarist/vocalist), the trio including
India Raine
(bassist) and
Jono Frowd
(drummer) have their sights set on challenging current stigmas and
revitalising the rock genre
for a contemporary audience.