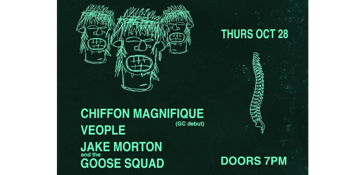 Chiffon Magnifique, Veople and Jake Morton and the Goose Squad
Vinnies Dive (Southport, QLD)
Thursday, 28 October 2021 7:00 PM
Join the darkly hypnotic and manic darkwave/industrial act Chiffon Magnifique as he makes his live Gold Coast debut here at good old Vinnies.
After nearly losing his mind over the trauma of 2020, and the demise of his old band, Jed A. Walters makes his return to the live stage with a new solo effort: Chiffon Magnifique. A hard-turn into the realms of post-punk, EBM, and goth rock, Jed has crafted a theatrical live show consisting of fresh material written and recorded during recent lockdowns. With themes of cabin fever, anxiety, isolation and searing love, Jed cannot wait to share his new stories with you.
Sharing the stage for this evening will be the inimitable electronic duo, Veople. Between multidisciplinary artist and musician, Jay Jermyn and musician, Julian Currie, Veople is an experiential sound collaboration lingering in the space between tension and release through textural melody, house-oriented rhythms and electronic production. Don't miss this cross-pollination of luscious synths and cacophonous guitar, deeply rooted in the subconscious and personal expression.
Opening up the night will be the unparalleled Jake Morton and the Goose Squad. Jake is an artist, producer and session drummer who has been described as an "angst-fuelled blonde domestic audio terrorist", who has graced stages and recordings with the likes of Napoleonic Wars, Electric Lemonade, and Syrup Go On. Jake's recent explorations into synth-punk, industrial hip-hop and free-form improvisation has amalgamated into his Goose Squad show - not to be missed.