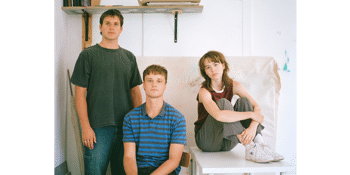 CLAMM "Care Album Launch Tour" With Special Guests
Vinnies Dive (Southport, QLD)
Friday, 30 September 2022 8:00 PM
Melbourne punk power trio CLAMM announce Australian launch dates for their second album Care.
Care
is out on clear vinyl LP and digital via Chapter Music on August 19. The band take off for a UK/Europe tour immediately afterwards and then return for Australian dates from late September.
CLAMM explore the confusion of what it is to be a young person trying to live an honourable life in this fucked-up world. New album Care is bigger, louder and darker than previous album Beseech Me (2020). CLAMM recorded any moment they could during 2021 in the most locked down city in the world, tracking at Rolling Stock and Sound Park Studios with Nao Anzai. Their songs are about trying to navigate systems of power and oppression while retaining a healthy sense of self and mental health. Community, creativity, and catharsis are what they hope to achieve through their music.
"CLAMM may not be the first group to venture out into the fuzzy Australian wilderness, but...they might just be the best." – DIY Mag
"Some of this young decade's best punk has come from Down Under, and Melbourne outfit CLAMM are elbowing their way into that conversation." - Paste