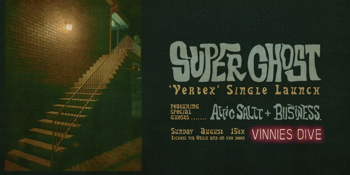 Super Ghost Debut Single Launch- "Vertex" with Attic Saltt and Business.
Vinnies Dive (Southport, QLD)
Sunday, 15 August 2021 4:00 pm
Sunday evening at Vinnie's on the 15th of August features Super Ghost's Debut Single Launch for their track 'Vertex'. After recording at Airlock Studios, Super Ghost are releasing their debut single Vertex along with support from Attic Saltt and Business.

Tickets available online through oztix or $15 on the door. Get in before this event sells out.

Doors- 4 PM
Business.- 5 PM
Attic Saltt- 6 PM
Super Ghost- 7 PM

Super Ghost is the product of the coupling of genres and textures, often left within their own soundscapes—never to meet each other. Pairing influences from a variety of sounds between them, Super Ghost produces a fresh alternative/indie rock spin of old tales, with the abstract compositions reminiscent of bittersweet anemoia. Rising from the Gold Coast, the sound of their dreamy undertone, dissolved by a propelling energy, mediates the lasting impression of Super Ghost.

Band members Alexander Shoesmith and Hudson MacMahon met at their part-time job, reconnecting years later as roomates quickly developing an intimate understanding of the other's musicality. Unable to escape the others guitar playing around the house, the two very quickly started writing together and Super Ghost was born. Combining deep baritone and soaring falsetto vocals alongside virtuosic guitar and deliberate arrangements, Super Ghost explores a new plain of alternative rock that travels to depths unknown to deliver an eventful musical experience.

Without a single release under their belt, Super Ghost have already got an emerging following and solid handful of shows under their belt. Playing electric sets in venues in Brisbane and the GC alike, Super Ghost have found their bearings and are fast becoming a band you don't want to miss.

Speaking of their upcoming release Vertex (out August 10th), Shoesmith said "The workflow in writing and producing Vertex has gone without a dull moment. Recording at Airlock Studios has been a dream we can't wait to share with everyone." The project, a labour of love and hard work, showcases just what Super Ghost is all about - an amalgamation of alternative rock and indie pop, seasoned with 'a bit of something we can't describe'.