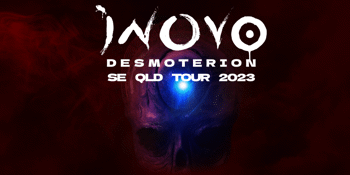 Inovo W/ The Mess We're In and Cardia
Vinnies Dive (Southport, QLD)
Saturday, 16 December 2023 1:30 pm
Meanjin/Brisbane-based art-rock outfit inovo are touring South East Queensland
in support of their debut album Desmoterion released earlier this year. Their sound is a
combination of Lovecraftian-inspired imagery and storytelling, irregular rhythms, and
ambient textures, designed to snare the listener into a twisting, multi-dimensional
journey.
inovo have previously supported international artists CHON (USA) as well as
Australian acts such as Ebonivory (NSW), OPIA (WA), Glass Ocean (NSW) among
many others. They will be joined at Vinnie's Dive Bar by fellow Meanjin/Brisbane acts
This Mess We're In and Cardia.

The Mess We're In

The Mess We're In is an alternative rock band from Brisbane, Australia. Their
sound leans towards the heavier end of the rock spectrum with influences from prog,
shoegaze and post-punk all making an appearance. The band was formed in early 2023
and were drawn together by a shared love of all things musical and a desire to create
something new in the Brisbane rock scene.

Cardia

Cardia is Brisbane's emo-est metalcore band, slowly breaking into the music
scene. Two musicians grabbed two mates to play some gigs and make music that
people will love so much they forget we're degenerates. We throw hands, steal vapes
and make new friends along the way. Coming to a theatre near you.