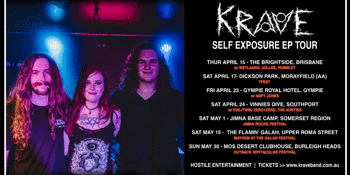 Hostile Entertainment
KRAVE "Self Exposure" EP Tour
TORIZON, EVIL/TWIN & The Aunties
Vinnies Dive (Southport, QLD)
Saturday, 24 April 2021 1:00 pm
Brisbane based, Alt Metal trio KRAVE are showing no signs of slowing down in 2021! With their upcoming EP 'Self Exposure' approaching, KRAVE are eager to hit the road ablazing with the group's largest QLD tour to date, KRAVE's 'Self Exposure EP TOUR. Headlining their Gold Coast show at Vinnie's Dive, this band has pulled some incredible supports with a lineup consisting of TORIZON, THE AUNTIES and EVIL/TWIN.
Incorporating influences such as CKY, Tool & Pantera KRAVE offers a tasteful & dynamic cross section of modern rock & alternative metal sure to leave you in a state of bone buzzing adrenaline with driving riffs, exceptional vocal power and energetic stage presence. Through Siana, Ryan and Sam's unparalleled passion and incredible hard work, the band gives everything to their audience - Every song - Every show.
KRAVE are launching their NEW EXCLUSIVE 'Self Exposure Merch Package' that includes 1X 'Self Exposure' CD, 1X T-shirt exclusive, 1X Poster, 1X Signed Poster, 1x exclusive pins & FREE sticker at Vinnie's Dive on April, 24th. Hurry and secure your tickets now through Oztix for only $15 pre-sold plus the booking fees.
Joining KRAVE are Brisbane's heavy energized four pieced alt - metal rockers TORIZON, South Brisbane's EVIL/TWIN armed with fierce rock n roll savage and kick arse showmanship, and your one and only Gold Coast progressive trio THE AUNTIES comprised of riff-tacular hooks and psych-rock power.
See you there Gold Coast.