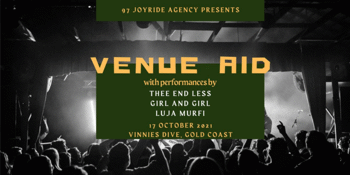 97 Joyride Agency
Venue Aid Performed by Thee End Less, Girl and Girl & Luja Murfi
Vinnies Dive (Southport, QLD)
Sunday, 17 October 2021 6:00 pm
97 Joyride Agency Presents: Venue Aid, a live music venue incentive.
Vinnie's Dive, 17 October 2021, with Special Guests Thee End Less, Girl and Girl & Luja Murfi.
Venue Aid was conceptualised one day after 97 Joyride Agency's Founder Zoe Maras kept having frequented conversations with venue owners and the negative implications COVID has continued to have upon our home away from home: our live music venues. Merging the want to help with industry involvement, Venue Aid was created.
Venue Aid is an event that intends to raise funds which solely go back to our live music venues. The event is as simple as that. All ticket sales will be going straight back to the venue, with a percentage of tickets also going back to the creatives involved with the project.
This is the company's way of giving back to the venues that have provided safe spaces for myself and so many other people, industry or not. Please buy a ticket, buy some venue merch, and show our live music venues your support, because they sure need a lot of support at the moment.
All shows presented by 97 Joyride Agency have a zero tolerance to any forms of intimidation and harassment, please leave your bigotry at home.
97 Joyride Agency would like to respectfully acknowledge the Traditional Custodians of the land in which the event is taking place. 97 Joyride Agency would also like to respectfully acknowledge Elders past, presenting and emerging, and would like to recognise that sovereignty hasn't been ceded. Always was, always will be, Aboriginal Land.