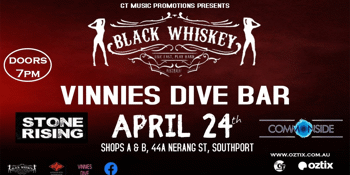 GT Music
Black Whiskey, Stone Rising & Commonside
Vinnies Dive (Southport, QLD)
Saturday, 24 April 2021 7:00 PM
Australian based Black Whiskey deliver that good old no Bullshit arse kicking Aussie Rock we all so much enjoy. Alan, Dan, Will & Mark are Black Whiskey. Black Whiskey deliver you an energetic collection of tracks that instil your faith that the Aussie Rock Scene lives on. Tight performances and amazing sound are delivered at every live performance. On the Touring Scene this band has supported a myriad of Local & International heavy weights! It is not hard to see why Black Whiskey have a solid and quickly growing fan base.
Stone Rising are a four piece hard rock band from Australia's Gold Coast. Comprising an edgy mix of rock and blues styles that represent past and present. The band is clearly defined by the presence of the unapologetic guitar sound that will grab you in the first riff. Coupled with Gritty vocals and Solid rhythm section. Stone Rising delivers you a Big Rock Sandwich to swallow.
Commonside are a Gold Coast four piece indie rock band with its musical roots rich in the Blur/ Oasis britrock/pop phenomenon. Sometimes a band comes along that you can't quite put into a box.
You can't explain what their specific genre really is, as they're a guitar band with a hint of Indie-Rock, a touch of Pop-Punk and a squeeze of Alternative in there too! These are all of the seats that Commonside occupy, and to put it frankly, those seats are awfully comfy!