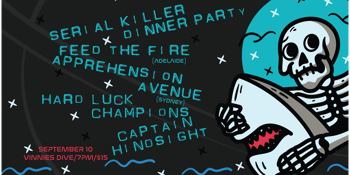 Jones In The Fastlane
THE BLUE GIG
Serial Killer Dinner Party, Feed The Fire, Apprehension Avenue, Hard Luck Champions, Captain Hindsight
Vinnies Dive (Southport, QLD)
Friday, 10 September 2021 7:00 pm

Jones in the Fastlane are bringing the coast another night of insane punk music at the most insane punk venue the Gold Coast has to offer, Vinnies Dive. $15 presale or $20 on the door.

After a long week of hard hours Western Sydney punks Apprehension Avenue are loading up their gear and smacking the coast in the face with their Punk Rock style.

Hitching a ride somewhere along the way are Adelaide's very own Feed The Fire who are sure to ignite something something in you when they hit the stage.

Of course we need the locals that you all know and love as well so rounding out the bill fresh of some sick new music are SKDP who always leave more sweat on the stage than a used gym towel.

Hard Luck Champions will bring an amazing stage performance with a bunch catchy as hell pop punk hits.

Finally we have Captain Hindsight who the name may be new but are full of so much local talent who have been around for a long time so make sure you catch them.

Fill out that risk assessment and we will see you in the pit.