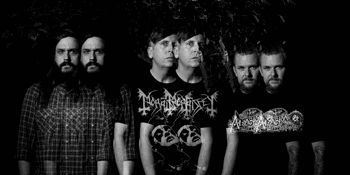 Your Mate Bookings and Get on the Stage presents
WHORES (USA)
Vinnies Dive (Southport, QLD)
Sunday, 13 December 2020 7:00 PM
US Abrasive Noise Punks Whores. will make their way to Australia this April 2020 for their long-awaited tour.
The group will lay waste to stages in Brisbane, Gold Coast, Port Macquarie, Sydney, Geelong, Melbourne, Frankston, Hobart and Adelaide

Since their inception in 2010, the natives of Atlanta, Georgia, have spent the last 10 years establishing Whores. as one of heavy music's most distinctive acts thanks to the formidable combination of the group's punk ethos and the ferocity of their sound.

Confrontational and relentless, the music of Whores. will now be seen and heard in its fully-formed state in Australia for the first time ever.

Beginning with 2011's Ruiner EP, Whores. brought a welcomed new vision to the often-tired "extreme music" scene. Two years later saw the release of the Clean. EP, a six-track musical display of visceral rancor and songwriting brilliance. Highly anticipated by critics and fans alike, Clean. sold out within a month, prompting the group to release a second pressing. Touted by SPIN as one of 2013's 'Best Metal Albums', Clean. simply reaffirmed what listeners had suspected all along. Whores. isn't here to fuck around. Their 2016 debut full length album GOLD was included in Rolling Stone's top 10 metal albums, and Metal Injection named the album the top noise rock album of the decade stating, "There is simply no topping what Whores. has done here."

Catch these riff-wielding maniacs on their debut tour of Australia in April 2020 on the following dates down the east coast:

Thursday 2/4 Vinnies Dive Bar, Gold Coast QLD
Friday 3/4 The Foundry, Fortitude Valley QLD
Saturday 4/4 Hibbard Sports Club, Port Macquarie NSW
Sunday 5/4 The Vanguard, Newtown NSW
Wednesday 8/4 Barwon Club, Geelong VIC
Thursday 9/4 Adelaide HQ, Adelaide SA
Friday 10/4 Altar, Hobart TAS
Saturday 11/4 The Bendigo Hotel, Collingwood VIC

Tickets available from www.yourmatebookings.com

For all media enquires please contact Anthony via yourmatebookings@gmail.com