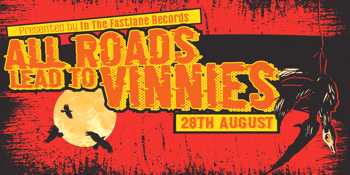 In The Fastlane Records
All Roads Lead To Vinnies with The Packets, Lazaros Dog, Tokyo Beef, 2nd Time Over and Baby Fist
The Packets, Lazaros Dog, Tokyo Beef, 2nd Time Over, Baby Fist.
Vinnies Dive (Southport, QLD)
Sunday, 28 August 2022 12:00 pm
Direct from the bad part of Adelaide, In The Fastlane Records Presents a horrible little band called The Packets and their weirdo friends, Lazaros Dog.
Joined by local serial pests Tokyo Beef, 2nd Time Over and Baby Fist.
All roads lead to Vinnies for this Sunday arvo blockbuster!