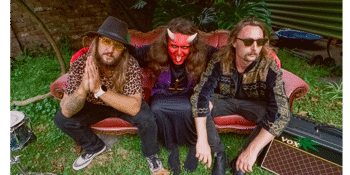 The Reefer Madness Album Tour
Vinnies Dive (Southport, QLD)
Sunday, 25 September 2022 6:30 pm
The Bifters burst onto the Sydney scene in early 2021 achieving a sell out on their first outing to The Factory Theatre mainroom during the restricted covid period. With lockdown becoming a blessing in disguise, not long after they completed their debut concept record 'Reefer Madness' under the production genius of George Georgiadis at Def Wolf Studios in Sydney's south.
The Reefer Madness album is an 8 track concept record which traverses the genres of blues, rock and doom whilst satirising the outdated war against cannabis in a whirlwind of distortion and hilarity. Each of the single-art pieces represents a different comic-book
style character based on the song, culminating with them all on the vinyl cover. The record is peppered with samples from cult classic movies and reefer madness propaganda, expertly recorded and mixed by George Georgiadis. The Sept/Oct 2022 Tour poster is to be designed by the amazing dutch artist Mossy Giant (instagram.com/mossygiant) Adding to the fact that The Reefer Madness album/vinyl is much more than just a bunch of 8 singles but an all-encompassing piece of art to be consumed both visually and sonically.
You can catch The Bifters live for the first time on Queensland soil at Vinnies Dive on 'The Reefer Madness Tour' September 25.

Be sure to grab a limited edition vinyl on the day.

Supported by heavy hitters Mudwagon, Rash and

Prcher

this one is going to be a banger!