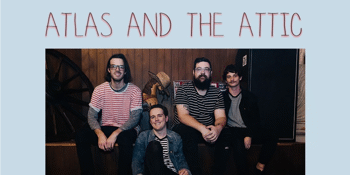 Atlas and the Attic
Vinnies Dive (Southport, QLD)
Saturday, 2 October 2021 12:30 pm
Like many artists in 2020, Atlas and the Attic took the opportunity offered by venue and border closures to write new music and search for a new approach towards their sound and style.
The result is their second EP, Impossible Stories, an emotionally driven series of alt rock songs that focus on doubt, unity and change. The EP takes on a new level of energy, drawing influence from 2000's era pop punk as well as modern guitar pop.
The celebrate the release, Atlas and the Attic will finally be headed back to the stage with the Impossible Stories QLD Tour. The four piece will be taking their new tunes to the Gold Coast, Sunshine Coast and Brisbane in early October for some Covid-safe performances.
Oct 2: Vinnies Dive, Gold Coast
Oct 3: Solbar, Sunshine Coast (supporting Cloning)
Oct 8: The Bearded Lady, Brisbane