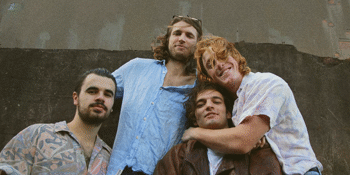 Front Row Artists
Shag Rock
with special guests
Vinnies Dive (Southport, QLD)
Thursday, 22 August 2019 7:00 pm
From a mutual love of procrastination and arvo beers to amassing over five million streams and sold-out cross-continent performances - Shag Rock are not your average sunset brew.
Born in the dying embers of 2012 by Nick "Cav" Cavdarski (Bass), Jacob "Reedy" Reed (Guitar, Vocals), Alex "Aly" Wilson (Guitar, Vocals), by 2014 Shag Rock's early recordings attracted the attention of Ian Haug (Powderfinger, the church) - who quickly signed the band to his independent label Airlock Records.
Shag Rock's official self-titled debut EP released in 2015 put the boys on the map and along with new drummer Max "Beechy" Beech solidified their position in the local Brisbane scene. Singles such as 'Champagne' proved there was a serious and technical side to Shag Rock, while feel good features such as 'Deep Froth' and 'Stacy' became regular live party starters. Throughout these early years Shag Rock supported bands such as Ocean Alley, Jinja Safari, Lime Cordiale, The Belligerents and Good Boy among many others. Key performances at Australian festivals such as Jungle Love Festival, Red Deer Music and Arts Festival, Grampians Music Festival and Surfers Paradise Live contributed to the boy's ever-increasing following.
Following the local success of their self-titled EP, Shag Rock re entered the studio with Ian Haug to deliver their rollicking debut album Barefoot in February 2017. Summer inducing breakthrough single 'Sunbleached Girl' exploded and allowed the boys to tour for the entirety of 2017, including a trip to the US of A to perform at the Mondo Music Conference as well as the World Surf League headquarters at Santa Monica, California. The song, mixed by legend Nick DiDia (Pearl Jam, Incubus) has since clocked 5 million streams on Spotify and continues to be added to playlists worldwide