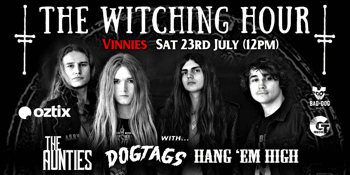 The Witching Hour W/ The Aunties, Dogtags and Hang 'Em High
Vinnies Dive (Southport, QLD)
Saturday, 23 July 2022 12:00 pm
THE WITCHING HOUR - Fresh off signing a Global Record deal with Golden Robot Records, Newcastle based band The Witching Hour are excited to be back out playing and they will be bringing their heavy, occultic riffs to Vinnies Dive Bar.
When their second Australian tour came to a grinding halt due to the pandemic, the band hit the studio to record their latest release "Sleep With The Stars". The single has received radio play in Australia, UK, and the US. In addition the track was selected by Alice Cooper to be featured on his program "Nights with Alice Cooper" on Triple M.
With strong global attention on all streaming platforms, festival bookings on Thrashville and Aftermath, as well as several Triple J Unearthed chart toppers, The Witching Hour are anticipating a busy post-pandemic 2022 which will coincide with the release of their 5th single 'GEN Z'.
With special guests The Aunties, Dogtags, Hang 'Em High.