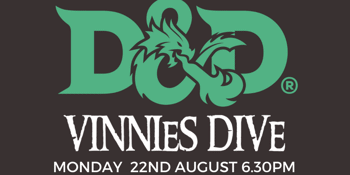 DUNGEON & DRAGONS PARTY
Vinnies Dive (Southport, QLD)
Monday, 22 August 2022 6:30 pm
- Open to players both new and experienced.
- A selection of adventures inspired by horror movies.
- Premade character sheets ranging from 3rd to 5th level will be provided. However, players are welcome to turn up early (at least 1 hour) to create a custom character.
- Accessories (dice, miniatures, etc) will be available to borrow, but feel free to bring your own.