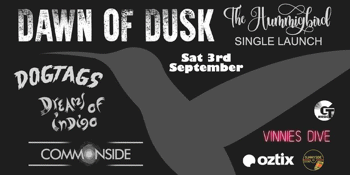 Dawn of Dusk "Single Launch" w/ Dogtags, Dreams of Indigo, Commonside
Vinnies Dive (Southport, QLD)
Saturday, 3 September 2022 12:00 pm
GT Music Promotions presents:
Dawn of Dusk "Single Launch" w/ Dogtags, Dreams of Indigo, Commonside

SATURDAY 3RD SEPT | DOORS OPEN MIDDAY

Following up their 2021 debut album release, Flight Trajectory, Dawn of Dusk are back with a new emotive hooky single, The Hummingbird! Due for release on the 2nd of September across all platforms! Lead singer and guitarist, Petar Zabic has been busy in the studio recording a brand new solo EP to be released later in the year. Accompanied with a full band, and performing with his buddies in Dogtags, Dreams of Indigo and Commonside in support, this is a single launch you won't wanna miss!