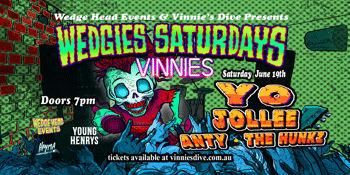 Wedge Head Events & Vinnies Dive Bar
Wedgies Saturdays w/ YO, Jollee, ANTY & The Hunkz
YO (Young Offenders), Jollee, ANTY, The Hunkz
Vinnies Dive (Southport, QLD)
Saturday, 19 June 2021 7:00 pm
This month Wedgies Saturdays has the ultimate lineup at Vinnies Dive with YO (Young Offenders), Jollee, ANTY & The Hunkz on June the 19th.
Headlining the night are the one and only YO. The Adelaide based indie-punk outfit with a British flair; not commonly seen amongst popular Australian rock acts. That being said when you combine the Artic Monkeys with The Clash, The Living End and a hint of Jamie T magnificence will shine through! YO have a knack for a melody and making a riot on the road with new music on the way these boys are not messing around!
Known for her devilish sass and theatrical performance, Jollee takes you on a wild Wonder Woman Rock n Roll ride to the other side. Combining old school rock with heavy blues; these hard rockers are recreating history and making it their own. Jollee's innovative and energetic tunes are truly unshakable. Keep your eyes & ears peeled for the fierce and ferocious goddess that is Jollee!!!
ANTY! is a beautiful hybrid of all the things you don't like. Mix some ska, reggae, hip hop, self depreciation and ultimate party vibes and baby you got a stew going. Years of leading the Bennies into self destruction has really taught ANTY! everything he needs to have not learnt. Enjoy the party and have a little dance shall we?
And lastly but definitely not least, opening the night are the legends, The Hunkz! The Hunkz-big slabs of sticky hunk juice in your ear holes! Three top blokes committing criminal acts of kindness. Be sure to get in early to check these champs out!
Tickets are limited and can be purchased via oztix.com.au & vinniesdive.com.au